A
How Do I Bind with the SUPU Office PC36 Coil Binding Machine?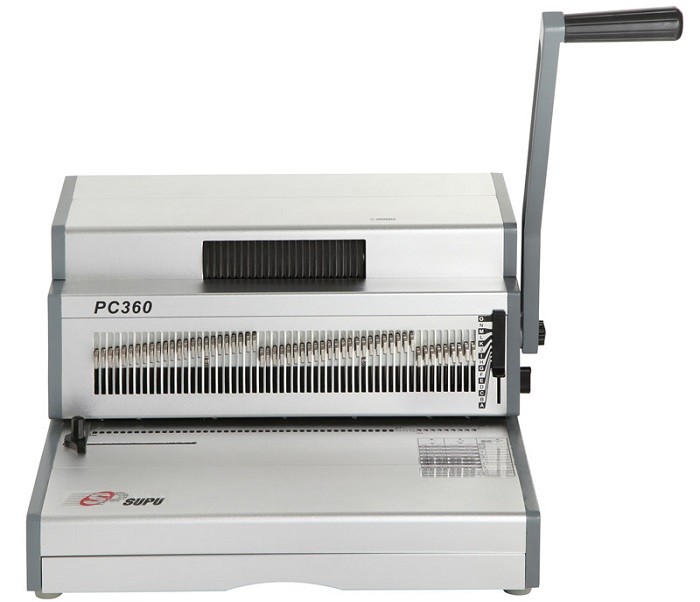 The SUPU Office PC36 coil binding machine is a light-duty coil binder that combines a sleek, simplified design with user-friendly features to create an excellent binding system for home and small office use. The SUPU Office PC36 features a 12 - 15 sheet manual punching capacity (based on 20 lb. paper) and fully-disengageable pins, making it powerful enough to handle small book binding projects and providing you with the versatility to accommodate practically any page size. Below is a step-by-step guide to binding documents with the SUPU Office PC36 coil binder:
1.If you have not previously used your SUPU Office PC36, then you will need to begin by installing the binding handle. Remove the blue knob located on the right side of the machine, then insert the handle so that it points straight upward. Replace the knob and tighten it to lock the handle in place.
2.Set the side margin guide (located on the left side of the machine base) so that the holes are centered on your page. To adjust the side margin guide, loosen the screw, position it as desired, then re-tighten the screw to keep it in place.
3.Adjust the punch margin using the blue punch margin control located on the right side of the machine base. Most commonly, thicker books use a larger punch margin setting than thinner books.
4.Disengage pins as desired to prevent any partially-punched holes along the ends of your document. Because the SUPU Office PC36 has fully-disengageable punching dies, you can easily punch almost any sheet size. To disengage a die, pull the corresponding arm straight out from the face of the machine until it stops. If you need to re-engage a die, push the arm straight back into the machine until it stops.
5.Insert up to 15 sheets (based on 20 lb. paper) into the punching throat. Align the pages to the side margin guide and the back of the punching mechanism to help ensure consistent hole placement throughout your entire document. Pull the binding handle forward to punch through all of your sheets, then return the handle to its upright position and remove the punched pages. Note: Since the SUPU Office PC36 has a manually-operated punch, it is recommended that you only punch 12 pages at a time to avoid unnecessary fatigue.
6.Continue punching your document in sets of up to 15 sheets until all pages have been punched.
7.Arrange the pages in the desired order, then tap them against a flat surface to align the holes. Manually insert the plastic binding coil by twisting it through the holes.
8.Once the coil binding spine has been completely inserted, use a manual coil crimping tool to trim and crimp both ends of the coil. Properly crimping both ends will ensure that the pages are secured on the coil.