Buried treasure: Library dusts off rare books


Some of the rarest books in the world were found on the third floor of the John T. Richardson Library in Lincoln Park.

The discovery was made last November by the Special Collections and Archives department, in conjunction with the "Preserving the World's Rarest Books" project. Since then, DePaul has garnered international attention for housing five books that have less than four copies known in existence.

Nora Gabor is the rare books librarian at DePaul. She works in the Special Collections and Archives department and oversees the rare collection.

"Not much is known about some of these books," she said. "The record keeping hasn't been the greatest."

Gabor said that one of her department's biggest concerns, especially when it comes to old books, is preservation.

"Some of these books have been partially restored or preserved," she said.

Gabor mentioned that even a restored binding can still be well over 100 years old. She said that her department is not trained in restoration and has a third party that handles the difficult restoration projects.

When it comes to preservation, one of the biggest dangers facing rare books are pests, according to Gabor.

"The worst pest we have to look out for are silverfish," Gabor said.

Silverfish, a type of insect, have a particular appetite for old books. If librarians don't pay close attention, they can destroy entire collections.

"We hope this collection will showcase that we have rare books at DePaul too," she said.

Gabor said that these type of rare books can bring in researchers from around the country. But the students are the ones that she believes can benefit most from seeing books that are windows to the past.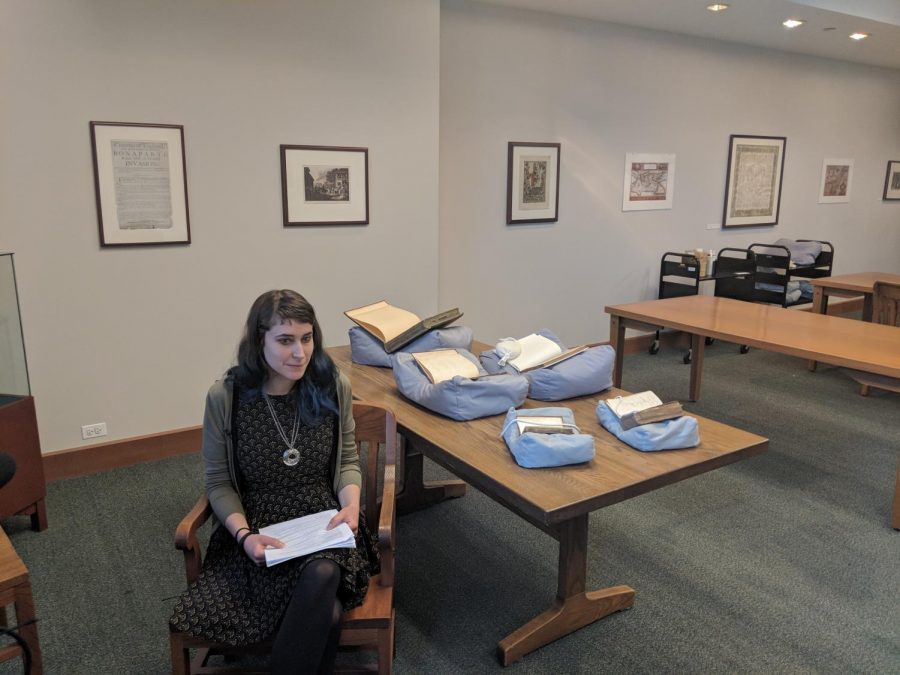 The crown jewel of the collection is a book titled "Oratoriae Partitiones," originally printed in 1529 in Paris. It is the only known copy — Gabor said it is impossible to know if more exist outside of public institutions.

Ed Young works for the Vincentian Studies Institute and spends much of his time in the Special Collections and Archives department cataloging old Vincentian texts. While the rare book collection isn't his area of expertise, he was excited about the texts.

"Those are incredible," he said. "It's great. Such great history."

Young went on to talk about how important historical texts are to understanding and learning about our past. He said that one of the best things scholars can do now is document those texts digitally so that they can be eternally preserved.

Kyle Henke is one of the staff members that plays a hand in digitally preserving old texts. He is the digital archivist for the department. He said that the rare books can help bring notoriety to the university.

"They bring attention, along with intrigue and interest, especially from outside researchers," Henke said.

DePaul finds itself in prestigious company by being included in the project. Harvard, Yale, Johns Hopkins, and Vassar College are among some of the universities that boast libraries with exceptionally rare collections.

Henke said that not only can rare books bring attention to the university, they can also be instrumental when it comes to educating students.

"We can explain how (the books) are made, and their origins," he said. "The students are seeing something very unique."

Henke said that is important to understand where we came from, and rare books like the collection in question can help play a small part in that process.

"It's always intriguing to know you are seeing something that very few other people have seen in the modern era."